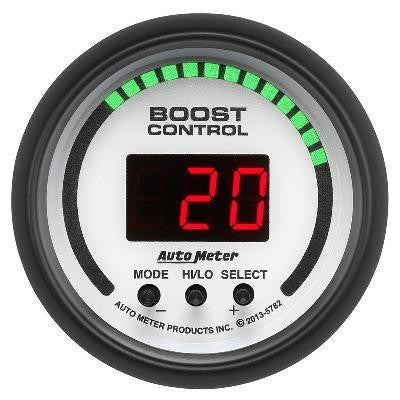 Autometer Boost Controller (Phantom/Phantom II 2-1/16")
Offering an unparalleled feature set, the Auto Meter Boost Controller redefines what a boost controller should be. In addition to the standard hi/lo mode, boost by RPM and boost by gear give you absolute control of your power delivery. Initial setup is incredibly simple using an intuitive menu and a evolutionary gear capture process. Configurable warnings with peak recall and boost shutdown are standard safety features designed to protect your engine. A scalable display range allows you to tailor resolution to show only the needed range for your application. Auto Meter's Pro Control output system is equipped to allow electric devices to be controlled at a user defined boost pressure (such as water/meth injection, nitrous, etc.) as well as Pro-Control input to default to waste gate spring pressure should the need arise. Display pressure in PSI, BAR, or kPa and easily data log and display with or without real-time barometric compensation. A direct plug wiring harness is included for ease of installation.


High/Low Boost Modes
Essentially two different, configurable boost settings that can be switched between with the push of a button. Perfect for the daily driver/weekend warrior, power can be called upon only when you need it striking the perfect balance between performance and efficiency.

Boost By RPM/Boost By Gear
Integrating Auto Meter's most advanced digital tachometer circuit, your boost curve can be tuned precisely at 500 RPM increments to minimize wheel spin and put more power to the ground. Taking it a step further, you can even custom tailor boost levels to individual transmission gears for the ultimate in control.


One Touch Gear Capture
Because our Boost Controller looks at not only engine speed, but also vehicle speed, you can instantly capture each gear with the push of a button. Simply drive normally in your chosen gear and hit the capture button. Our advanced algorithms determine your exact gear in real time based on the ratio of these two inputs.


Peak Recall
One touch recall of the highest boost pressure seen during a given time period.


Configurable Warnings w/ Overboost Protection
Easy to set parameters provide a full face warning if boost pressure moves beyond your settings. The warning doubles in speed if you pass it by 2 psi or more. The controller can also automatically return the system to wastegate spring pressure in the instance of overboost conditions, potentially averting catastrophic damage to your engine.


Pro Control Output
Using your boost measurements, the Auto Meter Boost Controller can automatically trigger external devices such as water/methanol injection, intercooler sprayer, or nitrous solenoids at a given boost pressure level, either on the high or low end of the scale.


Pro Control Input
Not only will the Auto Meter Boost Controller control external devices, it can also be controlled by external devices. Any ground signal sent to the Pro Control input will immediately back boost levels down to wastegate spring pressure.


Display
Highly versatile, boost pressure can be read in inHG/PSI, cmHG/BAR or kPa. Real time barometric compensation can also be turned on of off to account for changes in altitude and environmental conditions.


Data Logger Output
It has traditionally been a huge challenge to log both vacuum and boost. Our revolutionary approach to measurement allows for simple, configurable scale logging of both in either PSIA (absolute) or PSIG (gauge display)


Tach/Speed Signal Diagnostic
As both signals are critical to extracting the most from your Boost Controller, both signals feature real time on board diagnostics to verify the presence of proper signals. Taking it one step further, if the signal is interrupted during operation, the gauge will provide a warning.


A Comprehensive Package
Everything from the gauge to the wiring harness and sensor to the electronic boost control solenoid is included in the package. There are no additional pieces necessary to purchase to install and take advantage of every function with most applications.